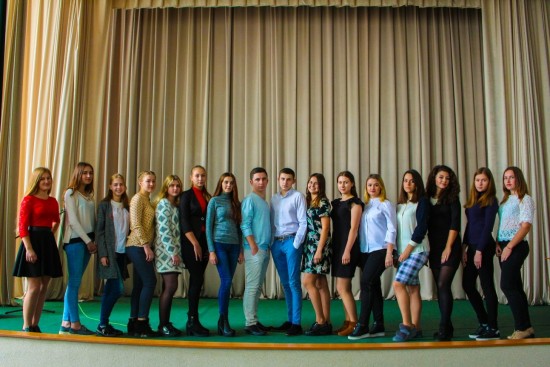 2018 year
In order to identify leaders among young people, to prevent negative events among students, to organize content entertainment and to intensify the work of a children and youth civic organization, a volunteer detachment was created in the college. The detachment consists of 17 people. The head of the detachment is a student o f the 3rd year, a group of PK-33-A Kruglikovsky Rostyslav Volodymyrovych.
The main activities of the volunteer's squad are:
dissemination of knowledge about the UN Convention on the Rights of the Child, legal education;
social assistance to different layers of the population;
prevention of negative phenomena in the youth environment;
active participation in the work of environmental protection;
organization of meaningful leisure.
Representatives of the volunteer sector organize the work of departments that help orphans, children with limited physical capacity (with defects). Participants take part in charity events, quests, in particular, the traditional participation in the charity organizations "Light of Hope" and the International organization "Teenergizer POLTAVA", participated in city actions "From Heart to Heart", "Red Cross", "Open our hearts for good" . Students of the volunteer movement also help ATO, namely, weaving masking nets every year and helping and visiting the orphanage for children with disabilities in the city of Severodonetsk.
Sector's straff:
The Head of the Sector: Kruglikovsky R.V.,PC-33-A
The Deputy  of the Chairman: Koryak D.O., PC-33-A
Kacharova Anastasia Sergiivna
Koryak Dmytro Olegovych
Kucher Luchia Olexandrivna
Lebedeva Angelina Sergiivna
Lavrenchuk Olena Viktorivna
Nepyipa Anastasia Igorivna
Podshyvaylo Hanna Igorivna
Zaika Victoria Romanivna
Panchuk Ilona Dmitriivna
Shynkarenko Alla Yuriivna
Sukhomlyn Ekateryna Sergiivna
Golubytska Irina Anatoliivna
Pysarenko Olena Ruslanivna